Let Me Piss On Your Grave
I was going to make this a very teary-eyed adieu post to Gossip Girl the tv show. BUT NOW. All I want to do is write a post that basically screams,
'Don't let the door hits your ass, fucker.'
I don't know how you can get worse than this.
They're (the writers) obviously see this as a challenge and make it worse than it already is.
Here I was, 2 days ago, planning to watch all the Gossip Girl episodes during my break next year.
Not. Anymore.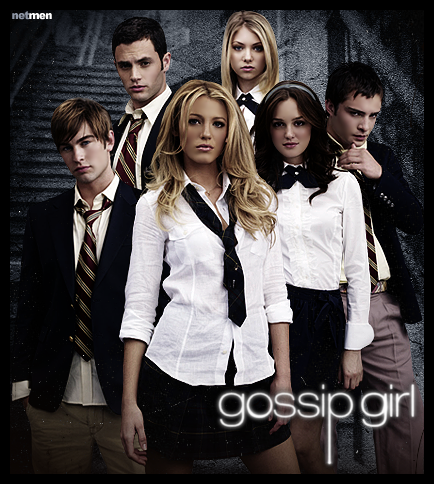 Remember when this show was good in bad way? I miss season 1. So bad.
I just have a lot of feelings with the way they destroy one of my favourite all-time character, Blair Waldorf.
Remember when she used to say one of the best 'OH SNAP' lines like,
"I always knew you were a whore, I never took you for a liar too."
One of the best review I've read pointed out the same thing I'm so frustrated about with Blair.
Blair and Chuck remained married and they had a little boy named Henry who looked like the doll from "Child's Play." Nobody mentioned how many times Chuck had been arrested for domestic abuse. [
Earlier in the episode, Blair got uppity with Serena about all of the bad things Dan had done to her and Serena responded that Chuck had done worse to her. Blair responded, "He's one of us,"
perhaps
the most disgusting allowance for deviant criminal behavior that the show has ever attempted.
Because Chuck was from the same social circle, we excuse violence, attempted rape and that thing where he sold Blair? Well… OK! If this were a 1800s Gothic romance, that might fly, but Chuck Bass is no Heathcliff, whether we're talking about the brooding anti-hero or the chunky cat who just won't be undone.]
UGH. I WAS PLANNING TO WATCH THE FINALE. BUT I WILL NEVER WANT TO WATCH ANYTHING GG EVER AGAIN.
WHY CAN'T THEY END THE SHOW WITH BLAIR AND SERENA DUMPING THEIR BOYFRIENDS AND ELOPE TOGETHER TO SOMEWHERE?!
THAT WOULD HAVE BEEN NICE. REMEMBER GOSSIP GIRL IS SUPPOSED TO BE ABOUT BLAIR AND SERENA BFF-ery. NOT PAIRING EVERYONE OFF WITH SOME PSYCHOPATHS.
BESIDES THAT. THEY MADE NATE RUN FOR MAYOR.
NATE ARCHIBALD?! OH YOU GUYS. WHAT KIND OF WEED ARE YOU SMOKING?
Nate is dumb. His main purpose on the show is to look pretty. AND THAT'S YOUR FAULT WRITERS.
AND THE WORST OF ALL (OR THE BEST), THEY MADE DAN THE GOSSIP GIRL.
THAT WAS AN INSULT.
EVEN IN THE BOOKS THEY NEVER REVEAL WHO IS GOSSIP GIRL.
DAN BEING GOSSP GIRL IS POSSIBLY THE MOST LAZIEST WRITING OF THE TV SHOW HISTORY.
IT JUST CREATES PLOTHOLES AND MADE THE WRITERS LOOK IMPOSSIBLY STUPID. AND HIGH ON SOMETHING OR DRUNK.
BUT IT GENERATES THE BEST MEMES OF THE MONTH.
SINCE GOSSIP GIRL HAS ENDED (THANK GOD) , I'M PRESENTING YOU TWO BLOGS.
GGMEMES
GOSSIPGIRLPLOTHOLES
DANISGOSSIPGIRL